Rachel loves chicken wings. No, seriously, it's an addiction of hers.
We have chicken wings AT LEAST once a week because she loves them so much. When Buffalo Wild Wings used to have their promotion of BOGO on Tuesdays, we went there every week. The problem with getting wings from restaurants is that the sauces usually have added sugar and the wings are usually fried in unhealthy fats.
A lot of restaurants and grocery stores have deals on chicken wings from time to time. But, the amount of chicken wings our family can consume in a sitting usually makes it way more cost effective to make them at home.
The trouble is, home-cooked chicken wings can be problematic. Many times, chicken wings in the grocery store come as a whole wing (flat with tip and drumette attached). It's very easy to separate them into 2 pieces though. All you need is a good sharp knife and you can cut right through the joint where the flat meets the drumette. In the picture above, we removed the tip (the thin piece with no meat on it) but usually we leave it on the wing since it has nice crunchy skin. When it comes to cooking them, either we have to heat up (and grease up) the whole kitchen fryting them, or we have to settle for lackluster baked wings without the crispy skin we all crave.
This recipes kills both those birds with one stone. Pun intended. Sorry, chickens.
One thing to know about nutrition for wings. The USDA says that a 3.2 ounce raw wing with bone is 109 calories, 7.8g of fat and 9g of protein. When you cook them, some of the fat renders off and there is no easy way to measure how much fat you lost. We usually guesstimate that each wing is 60-80 calories when we eat them and since some of the fat renders off, we always pair it with a butter based hot sauce or blue cheese dressing. Since wings are higher in protein, we usually eat wings on a "cheat day." Our cheat days are not carb cheat days, they are high calorie, higher protein days.
The key to getting your wings super crispy in the oven is to get the skin as dry as possible before cooking. Some people toss them in baking powder, but that adds extra carbs and we would rather get our carbs from other sources. You can also salt them, but for us, they don't taste as good. We found the easiest way to get them dry is to place them on a cooling rack and put them in the fridge for a few hours, the longer the better. When you take them out, you will find that the skin has really dried up.
For so long, we got the kitty crispy oven wings was all about the right cooking temperature,For so long, we got the kitty crispy oven wings was all about the right cooking temperature, (which we apparently never could get quite right.) When Joe figured out trying to win the refrigerator had of the time added to the crispiness, it was a game changer
The second step to drying out the skin is to follow the "low and slow" technique to start the cooking process. When you place them in an oven at 225 degrees, the skin really dries up without overcooking the meat. Once the skin dries up, you simply turn the oven up to 425 degrees to cook the wings through. Doing it this way also stops the fat from splattering all over your oven when you turn up the temperature.
Another brilliant stroke we had was praying the cooling racks with coconut oil because it meant we got to keep all the crispy skins on our chicken wings instead of leaving them stuck to the pan when we tried to plate the wings.
Taking the extra 20-30 minutes to totally dry out the wings before you actually begin "cooking" them is what takes these baked wings to the next level. It may be tempting to skip this step to save time. But, I promise you, it's worth the wait.
Though these steps require a little extra time, it's worth it. The result is super crispy wings that people will swear came right out of the fryer. No, this recipe isn't for a night when you are rushing to get dinner on the table. But, if you are preparing for a wing night or looking to feed some football fans on game day, this is a great recipe that's sure to impress!
Another thing that is completely worth it is to line your cookie sheet with aluminum foil is to line your cookie sheet with aluminum foil. I know it's an added expense, and you don't have to do that but it'll make life much easier and the resident dishwasher will surely appreciate it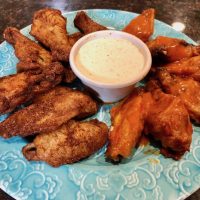 Krispy Chicken Wings
Though these wings are baked in the oven, you'll swear they came right out of the fryer
Print
Pin
Ingredients
Dry Rub (enough for 30 pieces)
1

Tbls

Chili powder

1

Tbls

Chipotle pepper powder

1

tsp

Paprika

1

tsp

Garlic powder

1

tsp

Onion powder

1

tsp

Cumin

2

tsp

Pink salt

1

tsp

Ground black pepper
Medium hot sauce (enough for 30 pieces)
1/4

cup

Melted grass fed butter

1/3

cup

Franks Red Hot sauce

1

tsp

Garlic powder
Instructions
Wings
Place a cooling rack over a baking sheet and place wings on the cooling rack. Put in refrigerator for 2-4 hours

When you are ready to cook the wings, preheat oven to 225 degrees.

Remove wings from the cooling rack and spray with a coconut oil spray. (This is to prevent the wings from sticking to the rack while they cook)

Place wings on greased rack, skin side down, and put in oven for 20-25 minutes.

If you didn't have time to put the wings in the refrigerator ahead of time, cook the wings for 30-35 minutes

After 20-25 minutes, remove wings from oven and gently turn each wing so that the skin side is up. Set oven to 425 degrees and bake for 30-35 minutes until top is crispy.

Once the top of the wings are crispy, remove from oven and turn each wing over. Place back in the oven for another 5 minutes. Once the wings reach the crispiness that you like, remove from oven and cover with dry rub or hot sauce.
Hot Sauce
Melt butter in a microwave safe bowl

Combine butter, hot sauce and garlic powder in a large bowl and whisk.
Video
Notes
Getting an exact nutrition for wings is difficult because there is no easy way to calculate how much fat renders off each wing when cooked. The nutrition information below is based on the raw wing and does not include the dry rub or hot sauce.
Nutrition
Serving:
8
wings
|
Calories:
648
kcal
|
Protein:
63
g
|
Fat:
46
g