Joe grew up in New York and chili was a staple in his house. There's nothing better than a nice bowl of chili on a cold night. To tell the truth, even though we live in Florida, one of our favorite meals was Joe's chili made with lots of beans and served over rice. That was before keto though.
We didn't think we would ever eat chili again until our church youth group decided to have a chili completion and Joe decided to try and make a "keto" chili. This recipe has evolved over several months and each time it seams to get better and better. The finishing touch was when he decided to add in some tomato paste. The tomato paste gives it a nice flavor without increasing the carbs too much. (Make sure you buy an organic one with no sugar added)
A few notes on this recipe. You'll see that the recipe calls for coconut oil. That's in there to add some extra fat. Our local meat place doesn't carry 70/30 ground beef all the time but when they do, we use that instead of 80/20. If you can find the 70/30 ground beef, just eliminate the coconut oil. There's also a couple of optional ingredients in the recipe. The bay leaves add a nice flavor but if you don't have any, it tastes great with out it. Cayenne pepper gives it a little more kick. Depending on who we're serving Joe adds it or leave it out, but it tastes great either way. Finally there's the stevia. Many people like a sweet and spicy chili and most traditional recipes will call for sugar. The stevia helps cut down the kick without sacrificing the flavors of the spices. You can also use 2 tablespoons of Erythritol in place of the stevia.
Give this recipe a try if you're missing chili, after all, its award winning.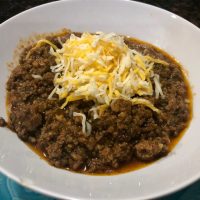 Ingredients
6

slices

Thick cut bacon

1

lb

Ground pork

2 1/2

pounds

Ground beef (80/20)

1

medium

yellow onion

(about 5 ounces)

2

small

Green bell peppers

(about 8 ounces after seeds and stem)

2.50

tsp

Minced Garlic

(or 5 large cloves)

5

Tbsp

Organic Tomato Paste

2 1/2

tsp

Worcestershire sauce

3

Cup

Organic beef stock

1 1/2

Tbls

Chili powder

3

tsp

Ground cumin

2

tsp

Pink salt

1

tsp

Ground pepper

3

Bay leaves

(optional)

1/2

tsp

cayenne pepper

(optional)

40

drop

stevia

(optional)
Instructions
Heat up a large cast iron pot or dutch oven on medium heat with coconut oil in it.

Dice up the bacon and add to pot with coconut oil. Cook until fat is rendered. Don't overcook the bacon, it should be soft.

Add ground beef and ground pork and cook most of the way through. Make sure you break up the meat into small pieces as it cooks.

While meat is cooking, dice the onion and green pepper. If you are using fresh garlic, mince up the cloves.

When meat is almost fully cooked, add green pepper, onion, garlic Worcestershire sauce and tomato paste. Stir to combine and allow to simmer for a few minutes until peppers and onion soften up

Add all spices and beef stock. Stir to combine well. Some people like a sweet and spicy chili, if so, add stevia with the spices. If you like a heartier chili, eliminate 1/2 cup of stock

Turn heat to a simmer and cover. Allow to cook for 1-2 hours. For a thicker chili, simmer with lid off for at least 30 minutes.

Serve with cheese and sour cream
Notes
You can substitute 2 Roma (plum) tomatoes for the tomato paste. We prefer the tomato paste. It can also be eliminated all together for lower carb chili but to us, its just not as good.
When we can find it on sale, we like to use 70/30 ground beef instead of the 80/20. If you choose to do that, eliminate the coconut oil. We only add that to bring the fat macro up.
Nutrition
Serving:
1
cup
|
Calories:
626
kcal
|
Carbohydrates:
7
g
|
Protein:
40
g
|
Fat:
48
g
|
Saturated Fat:
20
g
|
Fiber:
2
g
|
Sugar:
4
g
|
Net Carbs:
5
g