Rachel loves fish but Joe doesn't. Its kind of odd that he likes sushi but not cooked fish. One thing we have learned though is that since we started living a ketogenic lifestyle, our tastes have changed so Joe has started experimenting with cooking salmon. Salmon has a lot of nutritional benefits, especially on keto. It is rich in Omega-3 fatty acids, has a lot of vitamin B, helps with inflammation and contains more potassium than a banana.
A few things to note when purchasing salmon. There are several different types that you can buy. Stick with pacific salmon and make sure its wild caught. The best ones to buy are Keta (also known as Chum or Dog salmon), King or Sockeye. Each have their benefits. Keta salmon is lower in calories and fat and is also cheaper. It has a very mild flavor and is great if you're like Joe and aren't a big seafood eater. Sockeye is higher in fat, has a strong flavor (but not overly fishy) and costs more. The most expensive is the Alaskan King salmon and it is also the highest in fat. Don't worry about the fat though since you can always add fat as you cook it. Since animals store any toxins they consume in the fat, its actually better to get the leaner ones and add a good quality fat like grass fed butter or avocado oil.
When it comes to farm raised, stay away from it. Farm raised salmon has 46% more calories per ounce, almost 6 times more Omega-6, and less potassium. In addition, farmed salmon have much higher levels of chemical contaminants and antibiotics.
Since most of the fish you buy at the store, even whole paycheck, is previously frozen, we choose to buy our salmon at Costco. They sell 3 pound bags of wild caught frozen salmon. The Costco buy us actually carries both Keta and Sockeye. As of the writing of this blog page, the Keta is $18 for 3 pounds and the Sockeye is $30 for 3 pounds. What's nice about the frozen ones at Costco is the pieces are separated into individually vacuum sealed 4oz packages. For us, thats a huge benefit because that way we aren't stuck with buying a big piece of fish and having to consume it in one sitting. The frozen ones allow us to cook fish on a whim since it defrosts quickly and we only have to cook the amount we need for that meal.
In this recipe we used frozen Keta salmon from Costco and that's whats reflected in the nutrition. If you choose a different type, the nutrition information will be different. Joe just prefers the milder flavor of the Keta and then adds the healthy fats to bring it up to keto macros.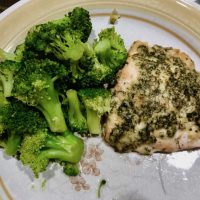 Orange parmesan Salmon
A healthy seafood dinner with loads of Omega-3
Print
Pin
Ingredients
4

tbls

avocado oil mayo

(we use this)

1/2

cup

grated parmesan cheese

16

ounces

wild caught keta salmon

(You can use any kind)

1/2

tbls

grass fed butter

2

cloves

garlic

(minced)

1 1/2

tsp

orange zest

(we use dried but you can use fresh)

1

tbls

parsley

1

tbls

dill weed

Pink Salt

to taste

ground pepper

to taste
Instructions
Preheat oven to 400 degrees

Line a baking sheet with parchment paper or tin foil. (It makes for easier cleanup)

If using foil, spray with coconut oil spray

Season both sides of salmon with salt and pepper and place skin side down on baking sheet.

In a bowl, beat together half of the parmesan cheese, mayonnaise, orange zest and garlic. Spread evenly over salmon.

In another bowl mix remaining parmesan cheese, parsley and dill. Add melted butter and mix. Sprinkle mixture over the salmon and press it into the spread.

Bake for 10-13 minutes until salmon flakes easily. (cooking time will vary depending on fish thickness)
Nutrition
Serving:
4
ounces
|
Calories:
273
kcal
|
Carbohydrates:
1
g
|
Protein:
25
g
|
Fat:
18
g
|
Saturated Fat:
4
g
|
Potassium:
517
mg
|
Net Carbs:
1
g