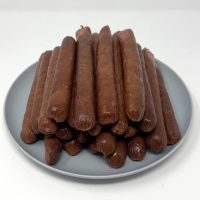 Hot Dogs
We love hot dogs but many of the store bought hot dogs have sugar, natural flavors and lots of other questionable ingredients. Making your own hotdogs is pretty easy and only requires a few things.
Print
Pin
Ingredients
2

pounds

Ground Beef

80/20 or higher in fat (DO NOT USE LEAN)

2-

grams

Redmond Real Salt

10

grams

Paprika

5

grams

Granulated Garlic

4

grams

Ground Black Pepper

3

grams

Onion Powder

2.5

grams

Prague Powder #1

1

cup

Crushed Ice

20

feet

Sheep or cellulose casing
Instructions
Get your meat very cold by putting it into the freezer for a little while. You want to keep the meat below 40 degrees

Grind meat on a course grind (if you are grinding meat)

Combine all of you spices and blend by hand into the meat

Put mixture back into the freezer for a little while to get it cold (again, keep it below 40 degrees)

Run meat mixture through a grinder on a medium grind plate. If you don't have a grinder, or are using pre-ground meat, skip to the next step

Place all the meat into a food processor along with 1/2 cup to 1 cup of ice. Emulsify the meat until it becomes a uniform consistency and color. After about 1 minute, add some more ice to keep it cold. You will know the meat is fully emulsified when it is one color and you can not distinguish the fat from the protein. It should be very sticky. It should stick to your hand when you hold it upside down

Place mixture back into freezer while you clean your tools and set up stuffer

Load up the sausage stuffer with your casings and hot dog meat.

Stuff the hot dogs and then tie off every 8-10 inches.

Place the links in fridge overnight

Precook your hotdogs in a smoker, Sous Vide or by Par-boiling. You want to do this at a low temperature until the hot dogs reach an internal temperature of 150-155 degrees

As soon as the hot dogs are done, immediately transfer to an ice bath for a few seconds to stop the cooking process. Then transfer back to pan to allow to further cool down.

Once they are cool, if you are using cellulose casings, remove from casing. Place hot dogs into an airtight container (we like to vacuum seal them)Can be stored in the fridge for 7-10 days or frozen for 6 months.
Video
Notes
The key to making good hot dogs is to keep the meat cold the entire time.  It is also helpful to chill your grinder and sausage stuffer, which will help keep the mixture cold.   If you allow the meat to get warm, it will affect the emulsification.   You also want to not overcook them.  Doing that will cause them to be dry and the fat will ooze out of the casing.   
The below nutrition facts are based on the number of hot dogs we get out of 2 pounds of meat.  It will be different depending on how long and thick you make your hot dogs
Nutrition
Serving:
1
Hot dog
|
Calories:
167
kcal
|
Carbohydrates:
1
g
|
Protein:
11
g
|
Fat:
13
g
|
Fiber:
0.4
g
|
Net Carbs:
0.6
g