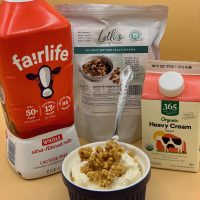 Keto Instant Pot Yogurt
This is a high fat, low carb yogurt that was inspired by Peak Yogurt
Print
Pin
Ingredients
1 1/2 - 2

Quarts

Full fat milk

We like Fairlife

1

pint

heavy cream

2

tbls

yogurt with live cultures
Instructions
Combine milk, heavy cream and yogurt in the instant pot and whisk together

Press yogurt button and let yogurt incubate for 8 hours/. DO NOT MIX OR STIR

After 8-9 hours, cover with plastic wrap and out in refrigerator for 3-4 hours. (DO NOT MIX OR STIR, it will stop the incubation process) This step can be skipped

Remove from fridge and pour into a yogurt strainer, nut milk bag or colander lined with multiple layers of cheese cloth. Allow to strain for 15-24 hours in the fridge. The longer you wait, the thicker the yogurt.

In a bowl, use an egg beater to fluff up yogurt

Divide into portions and store in air tight containers.
NO YOGURT BUTTON / No Instant Pot instructions
Add milk and heavy cream to instant pot or heavy pot (like a dutch oven) (NOT THE STARTER YOGURT)

using saute/sear function, bring the milk to 180 degrees and then turn off. Make sure you are stirring so it doesnt scald. You can skip this if using ultra pasturized milk

Once at 180 degrees, allow to cool to 110. Again, make sure you stir it.

Once it reaches 110 degrees, which in 2 tablespoons starter yogurt and immediately close the lid, and lock it (set seal to pressure cook) and unplug. Wrap the entire pressure cooker (or pot) in a beach towel or 2 bath towels. Set aside and do not disturb for 8-10 hours

Remove from instant pot, cover with plastic wrap and transfer to fridge for 4 hours. DO NOT STIR

Strain into a yogurt strainer, nut milk bag or in a colander lined with cheese cloth. Place in fridge and allow to strain until desired consistency.
Notes
The nutrition facts below are based on using fairlife 2% milk, Face 5% starter and after the whey has been strained. We strained off 2 1/2 cups of whey which is about 3.75 carbs per serving. That's why the carbs are listed as 1 per serving.
To figure out the nutrition on your batch, combine nutrition facts for all ingredients. (add all calories together, all carbs, all fat and all protein)
After the straining stage, measure out whey and subtract that nutrition from the starting totals. 1 cup of whey is 60-65 calories, .25 grams of fat, .5 grams protein and 12 carbs.
Make sure you save 2-3 tablespoons for the next batch. You should get 4-5 batches before you need to start over. You can freeze your starter cultures.
Nutrition
Serving:
120
grams
|
Calories:
267
kcal
|
Carbohydrates:
1
g
|
Protein:
8
g
|
Fat:
24
g
|
Net Carbs:
1
g