Even though we live in South Florida and don't get to enjoy the changing of the leaves like up north, there's something magical about Autumn. The weather starts to cool down a bit, the rain subsides, and the holiday season begins to feel close. In Fall, Rachel is all about pumpkin. She likes pumpkin coffee, pumpkin soup, pumpkin pie and of course, pumpkin muffins.
Creating this recipe sparked some debate in our house. While Rachel wants her pumpkin muffins to have the perfect amount of pumpkin flavor and spice, Joe wants the perfect muffin consistency. Thus, a standoff ensued and team Joe and team Rachel became separate entities for this recipe.
As he was creating this recipe, Joe was insistent on using real pumpkin instead of "natural flavors" and pumpkin pie spice. There's something about the taste and texture of pumpkin that can't be duplicated. The challenge was to mix pumpkin with Keto friendly flours, get the correct consistency for the perfect muffin all while keeping the carbs manageable.
First Joe tried using a combination of coconut flour and ground flax meal, similar to the base for our cinnamon roll mug cake. The problem was although it had the right consistency, the carbs were high and the pumpkin didn't shine through. Then he switched to just coconut flour and even though you could taste the pumpkin, the consistency wasn't right. Every time Joe thought he had it perfect though, Rachel would say, "it's not there yet, try again."
Rachel wanted a super moist, flavorful cake with the consistency of custard while Joe wanted it to be similar to a breakfast muffin you'd get from Dunkin Donuts.
The problem was in order to achieve the pumpkin flavor that Rachel wanted, you needed 2 tablespoons of Pumpkin but that was making the muffin too dense. After multiple attempts, a couple dozen eggs and sticks of butter later, Joe finally achieved the perfect compromise. The result was a muffin that had a cake like texture with all the pumpkin flavor that Rachel was looking for.
You might be asking, "What was the secret?" The answer was the baking powder. Usually we only use 1/4 to 1/2 tsp in our mug cakes but all the moisture from the pumpkin required more. Once we increased it to a full teaspoon, the result was the perfect pumpkin spice mug cake.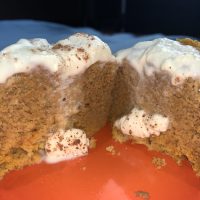 Pumpkin Spice Mug Cake
This delicous mug cake will satisfy your pumpkin cravings and it's super easy to make
Print
Pin
Instructions
In a mug, melt one tablespoon of butter

To the melted butter add coconut flour, pumpkin, erythritol, baking powder, pumpkin pie spice, vanilla extract, and stevia. Mix well

Add in one egg and mix well

Microwave for 1 minute 30 seconds.

Allow to cool for 1 minute and enjoy
Notes
To decrease the carbs, use 1 tablespoon of Pumpkin and 2 tablespoons of butter. This will lower the total carbs and net carbs by 1. It will result in a similar consistency while increasing the fat.
To make the muffin more fluffy and less moist, use 1 tablespoon of pumpkin, 1 tablespoon butter and 1/2 tsp baking powder
You can substitute 1/4 cup of Almond Flour for the coconut flour however it doesn't have quite the same taste.
Nutrition
Serving:
1
Cake
|
Calories:
233
kcal
|
Carbohydrates:
16
g
|
Protein:
7.8
g
|
Fat:
17.7
g
|
Saturated Fat:
11.1
g
|
Fiber:
5.5
g
|
Sugar:
2.8
g
|
Net Carbs:
4.5
g
|
Sugar Alcohol:
6
g