Who says you can't have Mexican food on Keto? While its true, it can be difficult since so many Mexican dishes include the use of tortillas, corn and rice, you can still have the Mexican flavors you love.
We live busy lives and to be honest, sometimes we forget to take meat out of the freezer to defrost and other times we just don't feel like cooking. This recipe solves both those problems. Why, because we're going to use and Instant Pot.
When I was a kid, my dad used a pressure cooker all the time. We made soups, stews and canned our own vegetables. The thing is, he used an old fashion pressure cooker that you placed on the stove. When you heard that little knob whistling, you knew to stay away from the stove and the kitchen. He made us so fearful of a pressure cooker, it took me years to buy one. Modern day pressure cookers are awesome. They're self contained, electric, have timers and have lots of safety features.
The nice thing about using a pressure cooker is it's fast and easy. Just throw your ingredients in the there with some liquid (even if the meat is frozen), put the lid on, set the timer and walk away.
This recipe combines the ease of the modern day pressure cooker with the incredible flavors it can produce. Since you're cooking under pressure, all those flavors get infused into the meat. With this recipe, the result is a super flavorful Mexican dish that you can serve over cauliflower rice, on a bed of lettuce or even some crisped up cheese wraps.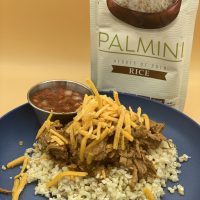 Mexican Shredded chicken
The perfect meal for when you forget to defrost something or you need a quick meal
Print
Pin
Ingredients
2

lbs

boneless skinless chicken thighs

3

tbsp

taco seasoning

4

ounces

cream cheese

1

cup

salsa

1/4

cup

chicken broth or stock
Instructions
Place the chicken thighs in the bottom of the Instant Pot.

Add the cream cheese, salsa, and broth and taco seasoning. Put lid on and turn dial to pressure. Cook on High for 20 minutes

Allow pressure cooker to slow release for 5-10 minutes then quick release remaining pressure

Remove chicken from pot and shred

blend up remaining liquid with an immersion blender

Add chicken back to sauce and stir

Serve over califlower rice or by itself
Notes
You can also make this with Chicken breast if you want to have a higher protein to fat ration
Nutrition
Serving:
1
bowl
|
Calories:
264
kcal
|
Carbohydrates:
5.8
g
|
Protein:
27
g
|
Fat:
16
g
|
Saturated Fat:
4
g
|
Monounsaturated Fat:
3
g
|
Fiber:
1.8
g
|
Net Carbs:
4
g