When the Keto Brick first came out, we immediately fell in love with it. Because of our hectic schedule, sometimes it's nice to have something you can grab that will meet all your macros and doesn't have a lot of garbage in it.

If you don't know what a Keto Brick is, it's a meal replacement bar that was invented by Robert Sikes, aka Keto Savage. He's a competitive natural body builder and created it for himself to help with maintaining his ketogenic lifestyle. On his vlogs and podcasts, Robert talked about a meal replacement that he created for himself and people started to express an interest in getting some for themselves so he started selling them.
Robert and his wife Crystal started making them by hand, one brick at a time. The problem was the demand was really high and they had a hard time keeping up with it. They would make a bunch of them and every couple months, release whatever they had in a "Keto Brick launch." You had to be quick to get one though because generally, they would sell out within three to four minutes. Robert and Crystal continued to expand the business over the course of a year eventually moving to Arkansas were they established the Keto Brick compound. They now have several employees churning out bricks every day and are constantly expanding the business and adding new flavors.
The Keto Brick has perfect keto macros at about 80% fat and all of the favors have less than 1.5% total carbs. They have awesome ingredients and no fillers like maltodextrin. The only issue is the bricks are 1000 calories so many people like to melt them down into smaller portions and use them as fat bombs.
As the company has grown, Robert and Crystal have added new flavors like coconut cream, cookies and cream and Joe's favorite, chocolate peanut butter.
One thing to note, the Keto brick is not a candy bar substitute. Some people buy them thinking they will be like a Perfect keto bar (which we also love) but they're not. Though the Keto Brick has some sweetness, it's designed to be a meal replacement, not a sweet treat. Because of this, some people find them too salty or not sweet enough and want to use them in a different way.
Since the Keto Brick has great ingredients and is high fat, we thought it would be fun to try and create a recipe using the keto brick as a fat source for a delicious baked good so we present to you the Keto Brick mug cake.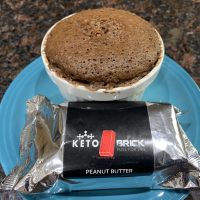 Keto Brick Mug Cake
We love keto brick and this is a great way to use the healthy ingredients they contain to make a delicious muffin for breakfast or desert
Print
Pin
Instructions
Melt 19 grams of Keto Brick in a ramekin or coffee mug

Add all ingredients other than the egg and combine

Microwave for 1:15 - 1:30
Video
Notes
If you'd like to cut the Total Carbs down, eliminate the granular sweetener and use about 40 drops of liquid stevia or monk fruit. That will bring some sweetness without adding sugar alcohols. You can use any flavor keto brick for this recipe. If using the coconut cream, add a few more drops of water, almond milk or heavy cream.
Nutrition
Serving:
1
muffin
|
Calories:
318
kcal
|
Carbohydrates:
9
g
|
Protein:
14
g
|
Fat:
27
g
|
Saturated Fat:
10.7
g
|
Sodium:
288
mg
|
Fiber:
3.5
g
|
Net Carbs:
1.5
g
|
Sugar Alcohol:
4
g