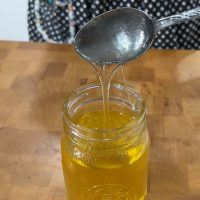 Keto "Corn Syrup"
This recipe creates a Keto Corn Syrup substance that you can use to convert your favorite Non Keto recipes into Keto recipes. It's great for making Carmels, Gummies and even Keto friendly maple syrup
Print
Pin
Instructions
In a large saucepan, add water, vanilla extract, allulose and cream of tartar and combine well

Bring the mixture to a rolling boil and stir

Once everything is at a boil, reduce heat to a simmer and allow it to reduce. Stir occasionally. Allow liquid to continue simmering until the liquid has reduced by half and the syrup covers the back of a wooden spoon and is thick while mixing. The color should turn a golden yellow

At this point, taste for sweetness and add 3-4 drops of liquid sucralose or stevia if you'd like it to be sweeter. This step is completely optional

While whisking, slowly sprinkle the tara gum into the liquid and combine well. The syrup should now be very thick.

The syrup will thicken as it cools so don't be deceived by how thin it is at first. If after it cools, it still isn't thick enough, reheat and add another 1/8-1/4 tsp of tara gum.

Allow to cool for a few minutes and transfer to an air tight container. Store in pantry for up to 3 months.
Video
Notes
Allulose acts like sugar and will caramelize so make sure you stir occasionally while simmering so it doesn't burn on the bottom of the pan.   The longer you simmer your syrup, the darker and thicker it will become.   The darker color will not affect the taste.
Use the tara gum sparingly,  you can always add more later but you can't take away.  The same goes for adding additional sweeteners like sucralose
Nutrition
Serving:
1
Tbls
|
Calories:
0.6
kcal
|
Carbohydrates:
12.1
g
|
Net Carbs:
0.1
g
|
Allulose:
12
g