Growing up eggnog was always a tradition in our house. Most of the time we just went to the store and bought the stuff in the carton, but occasionally, my dad would make his own.
One of the arguments against eggnog has always been the ingredients and the fact that they were always perceived to be unhealthy. You see, the main 2 ingredients in egg nog is Heavy Cream and Eggs, both of which are big NO-NO's on the standard American diet.
But here's the thing, we're on Keto and that means these are the perfect ingredients for us, except one thing, the sweetener. Now in the past, we've made Keto eggnog and it was good, but I was never really happy with the sweetness level. If I used enough erythritol to get the sweetness I liked, you would get a cooling effect and Rachel isn't a fan of that
Enter Allulose
With allulose becoming more readily available and the price starting to drop, we've begun incorporating it into our recipes more. The nice thing about allulose is it has the same taste and texture of sugar. Allulose is a monosaccharide, or simple sugar that is absorbed by the body, but not metabolized so it is nearly calorie-free. It is about 70% as sweet as sugar so in recipes either add about 1/3 more to measure cup for cup with sugar or just supplement with a few drops of stevia.
Now when it comes to Eggnog, there's two types that people are use to: the store bought kind and the homemade and there's a huge difference between them. Traditionally, homemade eggnog has a frothy top, (Rachel refers to it as beer foam) whereas the store-bought kind is usually a little thicker.
Since I primarily grew up on the store-bought kind of eggnog, my goal with this recipe was to get the texture of the store-bought one with the flavor and ingredients of homemade.
The key to getting the great tasting eggnog is going to be in the ingredients. To start with, use Organic Heavy cream to avoid the carrageen. There is definitely a difference in taste between the cheaper heavy cream and the organic ones. Next up is you spices. The highlight of any good egg nog is the nutmeg. If you can, grind it fresh because nutmeg loses a lot of its flavor after its been ground. If you can't grind it fresh, up the amount of pre-ground that you use. We like a strong nutmeg flavor so we use about 1-1/2 tsp but you can adjust it to your liking
The most important ingredient though is definitely the eggs. This is not the place to skimp. Make sure you're using Pasture Raised eggs. Not only are pasture raised healthier, but they taste better. I promise you will notice a difference. Yes, they cost more, but let's face it, you only drink eggnog once or twice a year. Eggnog is a holiday treat that actually good for you if you're on keto so why not use the best possible ingredients?
Now before we get into the recipe, I did want to mention that traditionally egg nog has alcohol in it and this recipe is no different. We chose to use Brandy but you can also use a dark rum or whiskey, all of which are keto friendly. Now if you don't want to use alcohol, that fine just add some extra heavy cream and almond milk to thin out the consistently. You may also want to cut down on the sweetener. We intentionally made this recipe sweeter before adding in the alcohol knowing that the brandy would bite into it a little so consider cutting it down a little.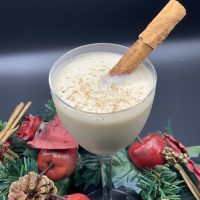 Keto Eggnog
A keto friendly version of the traditional Christmas drink
Print
Pin
Ingredients
1

cup

Heavy whipping cream

1`

cup

almond milk

(or any keto friendly milk)

4

eggs

1/2 - 1

tsp

nutmeg

fresh ground will have the best flavor

1/4 - 1/2

tsp

cinnamon

1/3

cup

allulose

30

drops

stevia

1

tsp

vanilla extract

1/3-1/2

cup

brandy

You can also use dark rum or whiskey
Instructions
In a sauce pan combine heavy whipping cream, almond milk, nutmeg and cinnamon

Bring to simmer to allow the flavors to infuse.

In a bowl, combine eggs, allulose and stevia

Once combined, temper the eggs with some of the milk mixture

After the eggs have been tempered, combine all ingredents back into saucepan

stir well and bring the temperature to 170. (about 8-10 minutes). Check that its done by seeing if it covers the back of a wooden spoon

Remove from heat and add the brandy and vanilla extract.

Transfer to a heat resistant jar and chill in the fridge for 3-5 hours

Shake before serving. If you want a thinner consistency, add a little almond milk.
Video
Notes
If you prefer a non alcoholic version, add 1/4 heavy cream and 1/4 to 1/2 cup almond milk to replace the brandy.
Nutrition
Serving:
1
cup
|
Calories:
338
kcal
|
Carbohydrates:
18.7
g
|
Protein:
10.1
g
|
Fat:
25.1
g
|
Saturated Fat:
15.1
g
|
Fiber:
0.5
g
|
Net Carbs:
2.2
g
|
Allulose:
16
g