BALLS!
There, I got it out of my system.
No, wait. Balls, balls, balls.
Ok, now I'm done for real.
I know the awesome people at Real Good Foods are working tirelessly to make convenience products with cleaner ingredients than what's been available in the marketplace thus far.
Unfortunately, we haven't been able to get on the same flavor page. Still, our recent product review of their jalapeño and white cheddar poppers certainly reminded us how much we've missed jalapeño poppers! Or, as we have shaped them in this recipe, balls. BALLS. (I'm just going to go ahead now and apologize for the rest of this post.)
Joe and I are appetizer people. In fact, pre-Keto, we rarely went to a restaurant for an entree. We went for the "fun food!" I couldn't tell you the best place to get Fettuccine Alfredo, Enchiladas, or Orange Chicken. But I could most certainly point you in the direction of the best nachos, loaded fries and jalapeño poppers.

Appetizers are the foods my parents would shoo us away from because they will "spoil your dinner." And, they are sort of right. What chance did beef and broccoli ever have of being eaten on the same night I ordered it, when it came with egg rolls and crab rangoon? Zero percent.

So, whenever we have an opportunity to turn an appetizer into the main dish, we take it. We can enjoy our "fun food," and also give a nod to mom and dad. (I'm not sure how pleased my dad would be with how many times I say "balls," in a video, but I'm trying to do better. BALLS. Clearly, I'm not succeeding just yet.)
When it came to this appetizer-turned-main-event, the filling posed a real obstacle. How in the world were we going to fully cook the chicken without all the filling oozing out? It's kind of what happened to the Real Good poppers. I'm sure they started with more filling, but it just sort of got incorporated into the popper walls. So, when you bit into them, there wasn't anything "in the middle." And, you have to have a nice, gooey filling in the center of a jalapeño popper! It's what makes them so fun. It's like the tootsie at the center of a tootsie pop! And, what would a tootsie pop be without its tootsie? A dum dum. Get it? Ok, I'll stop. Joe had the brilliant idea of freezing the center cream cheese, cheddar and jalapeño balls first. BALLS. That way, the chicken was cooking long before the jalapeño realized, "Hey, it's hot in here!" And, speaking of hot, preparing this recipe using gloves will make your life way less painful (and messy!) Jalapeños can be jerks, subliminally sending out messages like, "Touch your eye! Hey, doesn't your eye itch? I really think you should touch your eye. Touch them!" I fall for it every time and I regret it the rest of the afternoon. But, I don't stop using jalapeños because they're so delicious. You've just got to stay the boss of them. Put on gloves, (I love our pink ones), carefully get rid of all the seeds, and you're going to have an ingredient that adds so much flavor to this chicken.


The cream cheese and cheddar also really helps to temper any jalapeño heat. They're like bleu cheese dressing for your buffalo wings. There's just something magical about the combination of cream cheese, cheddar and jalapeños.
As with any hot food item with a filling, you definitely want to let these balls cool. BALLS. The filling is amazing, but it can squirt out like molten lava. Full disclosure, though, I rarely wait the appropriate amount of time to eat them. I just can't wait! Neither can Joe. We like to bite into them at the same time, look at each other, and proclaim the total obvious: "Wow! These are hot!"
Because they are shaped like balls, (BALLS), you can make a large batch of them at once and they store like a dream. I foolishly left Joe alone with QVC recently and now we have lots of beautiful Lock and Lock storage containers for meal prep. (At least he went with the rose gold lids. I'm obsessed with that color.)
I'm excited about making this recipe for upcoming potlucks and holiday dinners for a couple reasons. I know everyone will love them whether they're Keto or not. Also, who doesn't want to show up to an event and shout, "I brought the balls!" Now, that's a party!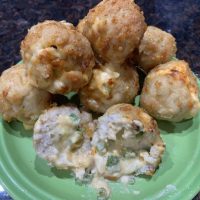 Jalapeño Chicken Poppers
We tried the Real Good comany Jalapeño chicken poppers and were really disappointed so we decided to try to duplicate them. No, these aren't tradiitonal stuffed jalapeño poppers but they do make an awesome on the go snack or appetizer.
Print
Pin
Ingredients
1 1/2 - 2

Pound

ground chicken breast

We grind our own since its cheaper

1/3

cup

Grated parmesean cheese

4

ounces

Cream Cheese

1/2

cup

shredded cheddar cheese

1-2

jalapeños

1/2

tsp

onion powder

1

tsp

garlic powder

2

tsp

mineral salt
Instructions
Cut the top off the jalapeños and remove the seeds. dice into small pieces.

In a bowl, combine cream cheese, jalapeños, and cheddar cheese.

After mixing, divide into 12 portions (each one is about 1 tablespoon) and roll into balls.

Place cream cheese balls on a piece of parchement paper and place in freezer (this step is optional, but it makes it easier

In another bowl, combine ground chicken, parmesean cheese, onion powder, garlic powder and salt

Divide the chicken mixture into 12 equal portions. We weigh them out.

Remove cream cheese balls from freezer. Take 1 serving of the chicken and wrap it around each cream cheese ball

Bake in air fryer at 380 degrees for 12-14 minutes
Notes
The below nutrition is based on using 1 1/2 pound chicken and the brand ingredients we use. For exact macros with your ingredients, use cronometer to determine them.
These can be made in an oven. Cook time is 375 degrees for about 30 minutes. Placing the cream cheese mixture in the freezer is optional but it does yield the best results. It makes it so that you can wrap the chicken mixture around the cream cheese and seal it. That prevents it from melting out while cooking.
Nutrition
Serving:
1
Popper
|
Calories:
121
kcal
|
Carbohydrates:
1.2
g
|
Protein:
15
g
|
Fat:
6
g
|
Saturated Fat:
3.3
g
|
Fiber:
0.1
g
|
Sugar:
0.4
g
|
Net Carbs:
1.1
g